Bittersweet: Singapore's ice cream hawkers
Audrey Wan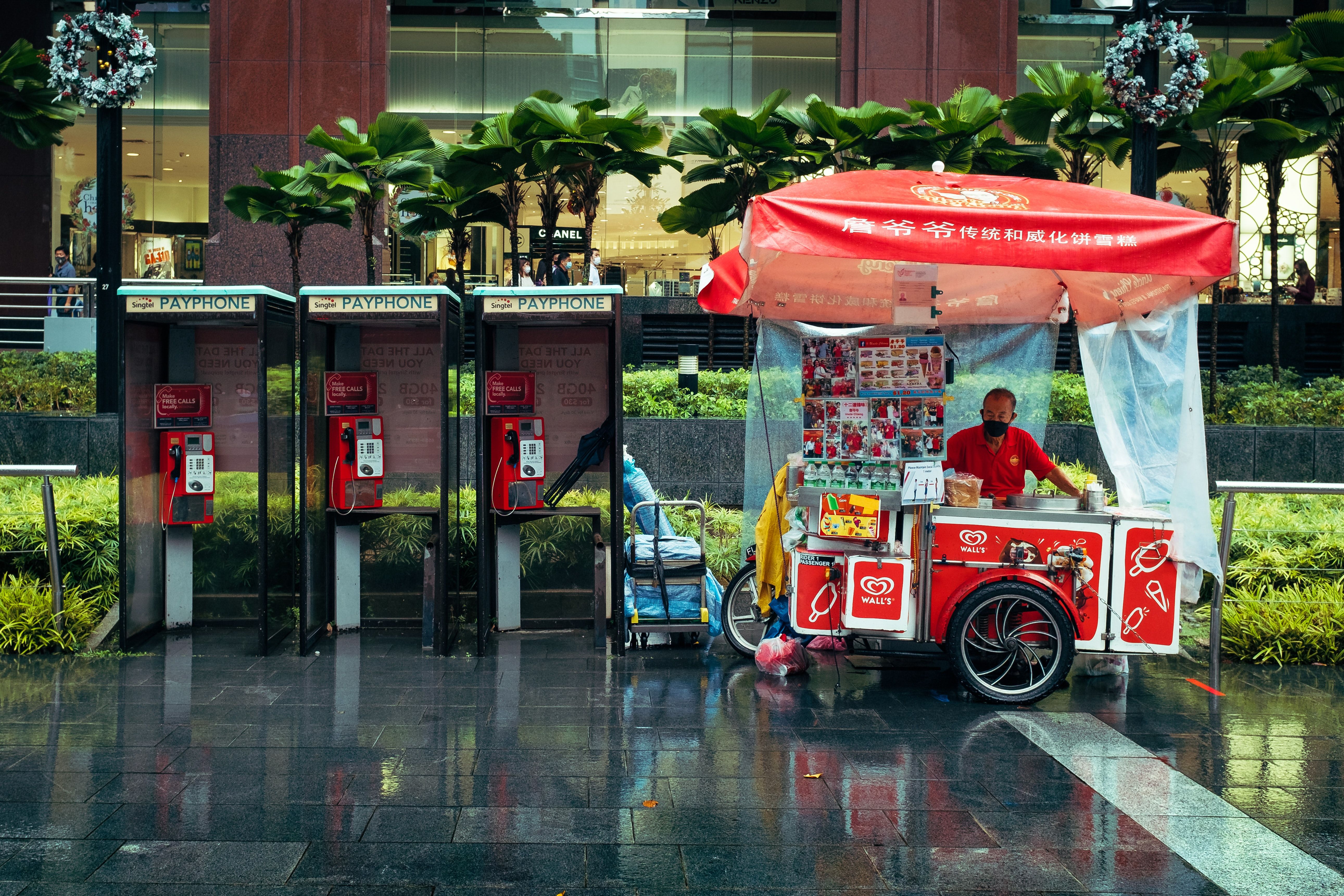 The tinkle of the cart could be heard from within the school compound, just shy of our reach beyond the gates. Still under the watchful eye of our teachers, we would begin to trade the names of flavours like secrets: Raspberry ripple, mocha chip, red bean. As the school bell rang our steps increased in urgency, sweaty primary school students surging towards the entrance with a singular purpose in mind: Getting ice cream.
The Singaporean ice cream cart's signature features- a red umbrella, slick metal countertop and laminated ice cream menu- stir a frisson of excitement in any local who beholds it.
It caters not only to the juvenile after-school crowd but to Orchard Road shoppers as well, a familiar sight along Singapore's iconic shopping street. It is also a frequent sight in Singapore's heartlands, popping up at HDB estates and beside wet markets. No matter what kind of day its customers have had, the ice cream cart receives them all with cheer and familiarity.
In this way, the ice cream cart is a local symbol of nostalgia and uncomplicated joy. So too are the ice cream hawkers who attend to customers with lightning-fast scoops and ever-friendly smiles. Mr. Chieng Puay Chui, a well-known ice cream hawker who has been in the business since 1965, has risen to prominence as a notable fixture along Orchard Road. Celebrities and public figures from all over the region flock to his ice-cream cart when visiting Singapore, eager for a taste of the classic ice-cream flavours. Former Thailand prime minister Thaksin Shinawatra visited the stall in 2019 and can be seen posing with Mr. Chieng in a photo posted to Facebook. The pair looked like old friends!
How it all began
The history of Singapore's ice cream hawkers is a unique one, with bittersweet implications. The hawkers were given a one-time license in 1994 to regulate their numbers, with an "intention…to phase out these street hawkers through natural attrition and allow such traders to move into proper premises". In the early 2000s, the street hawking scheme was temporarily reopened to provide assistance to those who were financially in need and less employable. Since then, the Singapore Food Agency has reported approximately 200 of these ice cream hawkers left. As the licenses that they hold are non-transferable, the trade is unfortunately predicted to dwindle, with no plans from SFA to ensure that ice cream hawkers continue to operate.
An uncertain present
With the lasting effects of the pandemic, the business has become even more fraught for these remaining hawkers. In fact, Mr. Chieng decided to venture out from his typical place along Orchard Road this year, travelling with his ice cream cart to HDB estates where customers are more accessible. Although residents have incorporated trips to the ice cream cart into their routines, Mr. Chieng told The Straits Times that "he now earns only about half of what he used to".
Additionally, safe distancing restrictions have complicated the rules for ice cream street hawkers, who fall within a grey area when it comes to dining in. In March this year, Mothership reported on a viral tweet from a Singaporean, whose experience purchasing ice cream from a hawker took a humorous turn. Accompanying a photo of an ice cream sandwich in a plastic bag, the tweet read:
"Just bought an ice cream from a street uncle. He told me that government dont allow the wrapper to be open from the ice cream as it is also called as dining in [laughing emoji] So its served like this.."
What lies ahead
Facing the realities of a sunset trade further stifled by the pandemic, Singapore's iconic ice cream hawkers may soon disappear from our streets. Some Singaporeans have taken to the internet in protest, with one petition to "Preserve the Singapore traditional culture of Ice Cream street hawkers" garnering close to 7000 signatures. Regardless of their fate, it is undeniable that the ice cream hawkers and their carts have carved a special place for themselves in Singapore's food heritage, adding sweetness to our lives in moments all too fleeting.